The Shepardson P.E. staff is hosting a running/walking program called the Galaxy Travelers' Mileage Club. Mileage Club will meet on Wednesday at 3:45 – 4:15 p.m. and on Friday, 8:00 – 8:30 a.m.
The program was started for students to value physical activity for health, enjoyment, challenge, self–expression, and social interaction.
Mileage Club is open to all students, Kindergarten through 5th grade with parent approval. Sorry, no pets are allowed! Participants in Kindergarten through 2nd grade must have a chaperone in attendance with them. Students in 3rd through 5th grade can participate without a direct chaperone and will be supervised by our teacher and parent volunteers. Parents and siblings are encouraged to attend with their child. Participation may be one day per week or both. Participants will meet on the 4/5 playground to check-in and begin walking or running around the designated course.
Students mileage will be recorded each day and tokens will be awarded for their accomplishments. Milestones such as 25, 50, 75 and 100 miles will have an honorary award. Some of the walking and running dates will have a special theme, for example September's theme is School Stomp Day, and students will earn a special token if they participate that day.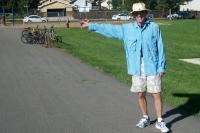 Mileage Club will begin on Wednesday, September 6 at 3:45 a.m. If the club is cancelled due to inclement weather, an announcement will be made school-wide at the end of the day. Cancellations will be determined by 3:00 p.m.
Every walker/runner needs appropriate running clothes, running shoes, a water bottle and possibly a snack. Dress in layers, and be ready for a sudden weather change.
Click this link to access and print a permission form: Mileage Club Permission Form
Please complete and return the form to Mrs. Lemesany, P.E. Teacher. Every child must have a completed form submitted before participating in Mileage Club
Contact Mrs. Lemesany if you have any questions or need additional information! 
Monthly Club Dates and Themes

September 


9/6 & 8
9/13 & 14
9/30


27 & 29: School Day Stomp


---




October

 
10/4 & 6
10/11 & 13
10/18
10/25 & 27: Pumpkin Run


---


November 
11/1 & 3
11/8
11/15 & 17: Turkey Trot
11/29


---


December




12/1
12/6 & 8
12/13 & 15


12/20 & 22: Snowflake Sprint

---

Mileage Club Break!

---


March 
3/1
3/6 & 8
3/20 & 22: Shamrock Shuffle
3/27 & 29

---


April
4/3 & 5
4/10 & 12
4/17
4/24 & 26: Umbrella Open


---


May 
5/1 & 3
5/8 & 10
5/15 & 17: Flower Power


May 22