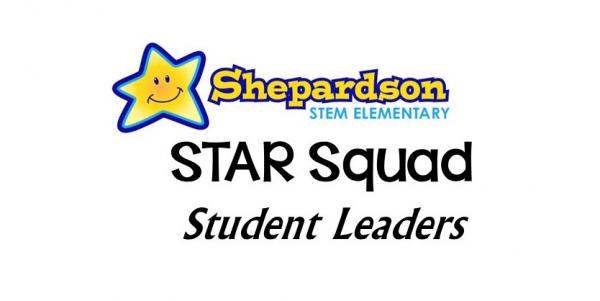 The STAR Squad Student Leaders is the student leadership organization at Shepardson STEM Elementary. The STAR Squad serves as role models for their peers and participates in a variety of tasks to make our school stronger.
STAR Squad is offered to students in Third through Fifth grade. Students are selected through an application process. STAR Squad meets monthly and members participate in activities such as being greeters at Family STEM Night, leading tours for dignitary visits, planning school spirit days, and other activities that bring our school community together.
For additional information contact Mrs. Woodcox, who is the adult leader of the STAR Squad.
---
Update for 2020 Fall Semester!
Hey Shepardson 3rd, 4th, and 5th Graders!
Want to be a STAR Squad Student Leader this year? I'm thinking we need a creative way to make this happen! Let's take STAR Squad REMOTE this fall!.
What would that look like? I would host a monthly TEAMS meeting, we'd plan spirit days, service projects, and other fun things to build school spirit and a sense of community. We'll keep the STAR Squad active and busy!
Interested? With your parents permission and help, fill out the STAR Squad application form online by August 31, and then stay tuned for details coming soon! You'll find the application at at the link below.
STAR Squad Application - Fall 2020
If you need more information about STAR Squad send me an email: bwoodcox@psdschools.org.
Looking forward to "seeing" you!
Mrs. Woodcox