Working together we can reach the stars!
Shepardson STEM Elementary is a Science, Technology, Engineering, and Math school. The STEM learning model incorporates inquiry-based learning into all academic areas. Shepardson follows the Problem-based Learning (PBL) Model for STEM instruction delivery. PBL is a learning process which gives students the chance to solve real-world, authentic problems. Combining STEM and PBL makes learning engaging and relevant. We know that discovery is important and makes learning exciting, fun, and relevant. In addition to a STEM-focused learning environment, Shepardson offers a well-rounded education with Art, Music, P.E., Media and Technology Specials, and social-emotional learning. Individualized instruction and high expectations of behavior and effort are stressed. 
Shepardson is a community where education is provided by a well connected team of teachers, staff, and volunteers. The learning and growth of every student is our top priority.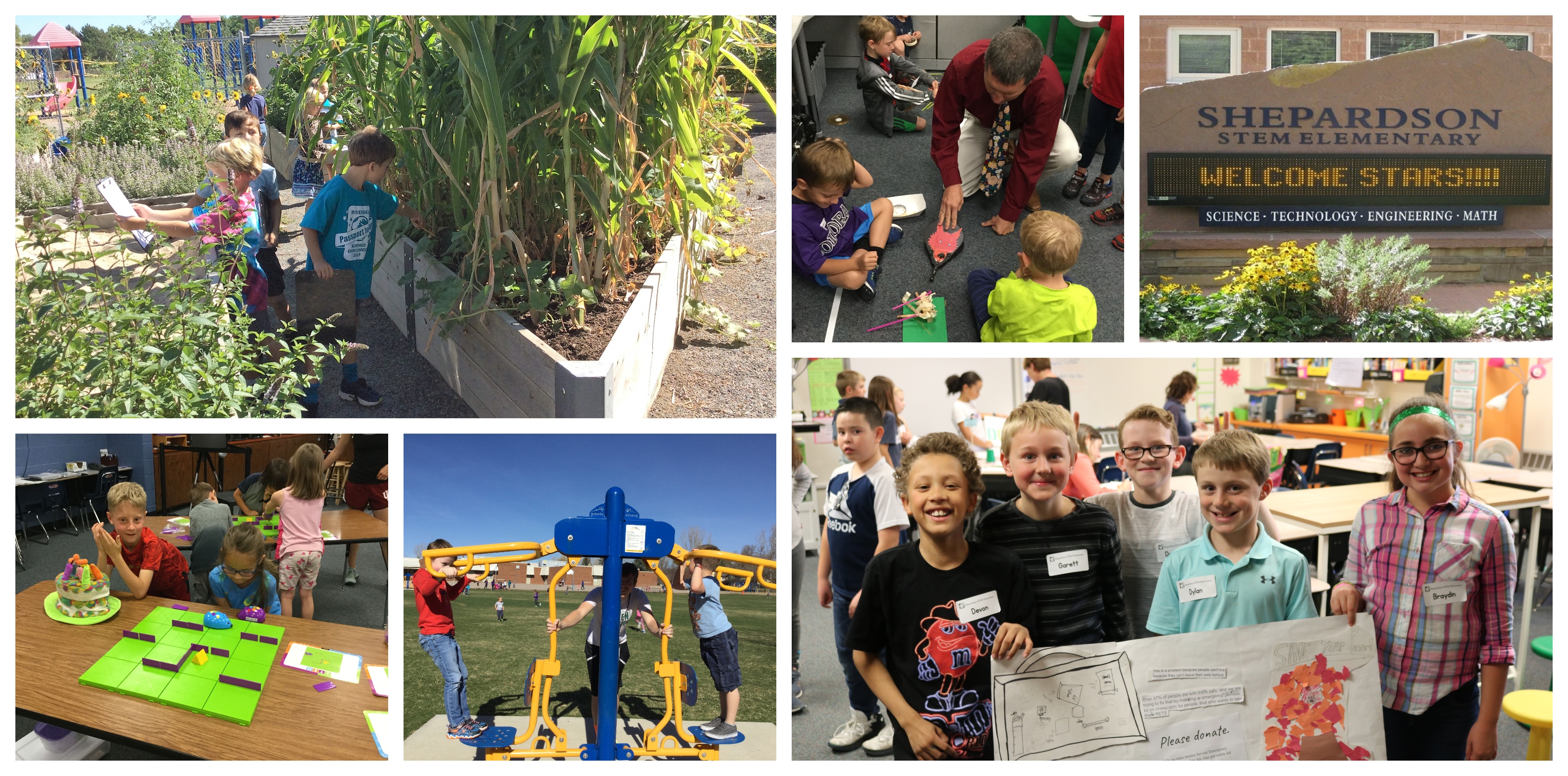 Mission
We believe that with our help students can learn and grow to become the best people they can possibly be. We believe that it is our responsibility to promote student learning and to search for more efficient and enjoyable methods of improving the quality of student learning.
Beliefs
We believe that quality STEM education challenges the individual in such a way that each student's needs, abilities,  and potentials are addressed.

Education is most successful when students, parents, teachers, and community work together.

The school community should work together to provide a safe, caring, positive learning environment.

We believe a well-rounded curriculum includes music, art, PE, media, technology, and social skills, as well as academic studies.

We believe learning is an active, lifelong process.
School Hours
   1st through 5th and Full Day Kindergarten:  8:55 - 3:33
   70% Kindergarten:  8:55 - 1:40
   AlphaBEST Before and After School Program (Parent funded): 6:30 a.m. - 6:00 p.m.
Office Hours
    7:30 a.m. - 4:00 p.m.
Supervision Times
Students should not arrive until 8:40 a.m. Supervision on the playground and the crosswalk begins at 8:40 a.m. After school, supervision begins at 3:33 p.m. and end at 3:43. Only the crosswalk on Springwood Drive in front of the school has supervision for crossing a street.
Reporting Student Absences or Late Arrivals
PLEASE CALL 488-4526 from 4:00 p.m. - 9:35 a.m.
Please make it a priority to keep this number handy and to report your child's absence or tardy. For safety reasons we must have this information each and every day. Making this phone call will save both you and the office time and enable us to more quickly determine if all children are safe and accounted for each day. It also keeps the phone lines available for other calls. Please keep the office informed of any new phone numbers or addresses.
Shepardson Handbook - 2021-2022